this truly was the month of thrillers. i don't even know why i read so many, but it just felt right to scare myself this month :')
August was actually pretty eventful. We had our Eid celebration at the VERY beginning of the month (Eid Mubarak to all those who celebrate!! 🎉🎉) and then comes the invitations with family and friends (which, i always look forward to).
aside from that, i'm back on my crap watching cooking shows for hours on end ✌️ there's nothing that gets your heart racing like burning a dish you spent hours making. truly relatable
i've also had somewhat of a breakthrough on my art and im so very happy with where it's going and im here to share just SOME of what i've been busy creating so,,,,,
HELLO I DREW NEW DIVIDERS AND AN ACTUAL SIGN-OFF FOR MY BLOG, PLS TELL ME YOUR THOUGHTS ON THEM
but first, books,
I read a total of 16 books. 5 physical books 📕, 2 e-books 📱, & 9 audiobooks 🎧
YARC reads will be represented with this emoji: 🍚 i'm currently at 32/50!! and you can track my progress and mini reviews HERE
Links will take you to my reviews for each book.
🎧 A Thousand Splendid Suns: ✦✦✦✦✧ 🍚
khaled hosseini knows how to write hard-hitting books with so much emotion and nuance. i was really worried how he would handle negative stereotypes without demonizing an entire culture but honestly, i think he did a pretty good job.
🎧 Recursion: ✦✦✦✦✧
i LOVE mind-bending books that make you feel really stupid and make you rethink your entire life. and that's exactly what recursion did to me. the book did become repetitive at times but i thought the ending was SO MUCH more conclusive than Dark Matter.
📕 Ask Again, Yes: ✦✦✦✦✦
i. freaking. loved. this. book.
ask again, yes is this slice of life, multi-generational story that's built on family and forgiveness and redemption and love and it was outstanding.
🎧 Lock Every Door: ✦✦✦✦✧
i had so much fun reading this book. the ending got a little fantastical for a mystery/thriller but i really enjoyed the eerie, creepy feelings it delivered.
🎧 A Stranger in the House: ✦✦✧✧✧
i'm so tired of seeing this plot point in thrillers. i found this book to be bland and uneventful up until the last line. and then the last line was PRETTY good if it got more elaboration on???
📕 No Exit: ✦✦✦✦✧ (3.5 stars)
this started off as one of the most promising thrillers ever. it was creepy and chilling. the fear of isolation and danger could be felt through the pages.
my main issue was that it became repetitive and there were aspects that were SO UNNECESSARY and you know the author just added it in to keep the story afloat.
🎧 A Short History of the Girl Next Door: ✦✦✦✦✧
this book isn't for everyone but i found it to be a really refreshing story of a boy's unrequited romantic feelings for his best friend. it explores grief and anger in such a real way and had a great balance of humour.
📱 The Way of Kings: ✦✦✦✦✧
this freaking 1000 paged monster almost took me out.
honestly the story was long and drawn out and i felt it could have been shortened by 500 pages and still had the same effect but the ending was superb (in sanderson fashion) and i'm so attached to these characters. I'm so excited to be continuing it
🎧 An Anonymous Girl: ✦✧✧✧✧
oh my god. i hate this theme in thrillers, it's so BORING and OVERUSED. this entire book was a snooze-fest sorry 🤭
📕 The Chalk Man: ✦✦✦✧✧ (3.5 stars)
i really enjoyed this book. it was paced well and had a really really creepy plot but i felt it pushed the bounds of reality a bit and left me with a lot of unanswered questions. the main reveal didn't phase me but THE EPILOGUE, fantastic.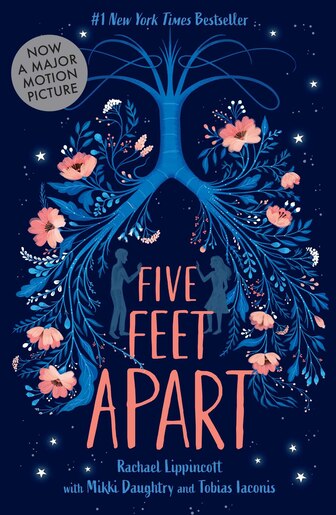 📕 The Gilded Wolves: ✦✦✦✧✧ (3.5 stars) 🍚
this was so fun!! i think it had a lot of potential to be this amazing book that was entertaining as well as informative. i loved the science/math riddles included and the characters and their development.
what i did not like was how nothing was explained, especially the magic system and the narrative structure. i was lost A LOT of the time.
🎧 Miracle Creek: ✦✦✦✦✦ 🍚
!!!CONTENDER FOR THE BEST BOOK I'VE READ THIS YEAR!!!
idek how to put miracle creek into words but damn this connected all the elements in the book in the most incredible way. i loved it so much.
🎧 Normal People: ✦✦✦✧✧
normal people was highkey depressing and sad and the miscommunication was so FRUSTRATING but at the same time it's such a human story and so packed with emotion.
idk, im kinda confused about this book.
📱 Sleep: ✦✧✧✧✧
i could not deal with this book.
🎧 Five Feet Apart: ✦✦✦✧✧
i watched the movie first and i really enjoyed it and it was basically a play-by-play of the movie, so that's cool i guess. but the ending in the book was SO MUCH BETTER than the movie omg thank goodness that exists.
📕 Technically, you Started it: ✦✦✦✦✦
this book was told ENTIRELY in text messages and i found it so ADORABLE and FUNNY and so charming and i just love the enemies to friends to lovers thing im so soft
✨ read 15+ books
✨ participate in contemporary-a-thon
✨ LETS👏GET👏THAT👏WIP👏GOING👏
✨ workout at least 3 days a week
✨ publish 5 blog posts
✨ complete "way of kings" & "words of radiance" ❌✔️ – i got through WoK but not WoR so
✨ read 15 books ✔️
✨ write 10,000 words for my WIP ❌ – HAHAHAH i didnt even open my document!!!
✨ limit my youtube intake (this is a full lie) – i mean,,,,,,how does anyone measure this???
✨ publish 5 blog posts ❌ – I PUBLISHED 4! does that count as a win?
so tell me, how was your August? have you read any of the books i mentioned above? what did you think of them? what book was your favourite book of the month? is anyone else hyperventilating over the fact that it's already September???
and ahem, not to be a self-absorbed bish but what do you think of my graphics?? do you like them?? do you hate them?? i would love to hear if you have any suggestions i could incorporate to make them better.
i hope you're all having an amazing month,